THE MUSIC PLAYED BY THE BANDS Jennie Löbel & Swing Kings and Professor Tommy Löbel Swing Band is suitable for many different occasions. We hope we can give you what you want for your party, restaurant, jazz club and dance.
For dancing
We play in danceable tempos and make sure we have the right rhythm section musicians - it must swing! We switch between happy, fast melodies and slow music full of feeling. The bands are very popular among both foxtrotters and lindy hoppers / jitterbugs who follow the bands wherever they play.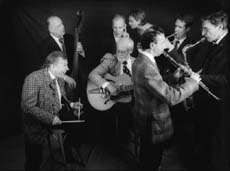 At the party
When it's time for a party – for your wedding or birthday, or at the office - we will come to you. If you're tired of cover bands playing Hotel California, we will give your guests something different and bring a real atmosphere to your party. We've noticed we're much appreciated by people of different ages.
Elderly people are happy that the music of their youth is back – although that might not be a

surprise. But it looks as though we are seen as really cool right now among the younger crowd. And that's a trend we hope will last for a long time.
We can produce a programme that is tailor-made for your party and can for example provide:
- a small band playing when the guests arrive or for a cocktail mingle.
- piano entertainment during the dinner.
- a bigger band for a dance or concert.
- performances with Sweden's best swing dancers.
At the restaurant or jazz club
The band brings an exciting atmosphere to your restaurant or jazz club. The music will transport you to a smoky, sexy jazz club in New Orleans in the 40s. A cultural retro is sweeping the States right now with clothes, music and dance inspired by trad and swing. And Sweden is following. The band can also give your club a touch of class and luxury. White tuxedo, black piano and golden dress, how about that?
At the jazz festival
It is quite unusual to find a real swing band at jazz festivals these days and on top of that we play an unusual swing repertoire. At the trad jazz festivals we are the modern band in the Dixie jungle. Visitors appreciate the variation. Where modern jazz is being played it is our traditional melodies and older sound that make us stand out from the others.
At any event
At any kind of festival, party or celebration, we play the kind of music that makes people dance in the streets.